Venue
The Peace and Security Summit 2013 will be held at Clarion Hotel Stockholm, Fotografiska and Näringslivets hus in Stockholm. We expect most delegates will be accommodated at Clarion Hotel Stockholm.
WVF is responsible for the conference main agenda and for invitations. Currently efforts are being made to engage senior officials and political key note speakers.
SVF has overall responsibility for the planning and the practical and technical arrangements of the conference. The Royal Military Academy Karlberg is supporting with staff resources.
A project organization has been established that will engage WVF, different Swedish governmental organizations and other relevant actors, and a working plan for the project has been developed.
Travel and Transfers
All delegates, observers, guests and accompanying persons will be required to pay for their own journey to and from Stockholm/Sweden.
Accommodation
All delegates, observers, guests and accompanying persons will be required to pay for their own accommodation. The selected hotels shown below have special rates per room per night including taxes and breakfast. It should be noted that a limited number of rooms are available in each hotel.
Rates
Clarion Hotel Stockholm
Price: From 1.635 SEK (191 €, 250 $)
Skanstull Hostel
Price: From 770 SEK (90 €, 118 $)
Downloads - Regarding the Event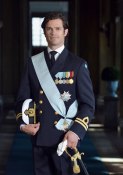 27 May WVF's Executive Board will arrive for an internal meeting. In the afternoon a press conference will be arranged and in the evening a VIP dinner at Karlberg Castle will be held.
28 May all delegates and other participants will arrive at the Clarion Hotel Stockholm.
There will be an Opening Ceremony and a welcome dinner at Fotografiska Museum in the evening.
In the morning of 29 May the conference will begin. During the afternoon all participants will take part in the Veterans Day at the Sjöhistoriska Museet, and when the Swedish King HRH Carl XVI Gustaf will inaugurate the new veteran's monument; followed by sightseeing by bus or boat in Stockholm. The evening will be free for the participants and for informal meetings.
On 30 May there will be sessions all day and in the evening a farewell dinner at the hotel.
31 May close of Peace & Security Summit and departure.
Links Project Organizations